RESIST: Open Call for Expression of Interest for Service Providers
This call is addressed to experts in the field of digitalization and/or green transformation who have experience in supporting SMEs in the Mobility, Transport and Automotive (MTA) sector and the related production ecosystem.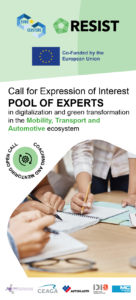 The pool of experts in the field of digitalization and/or green transformation will be established for SMEs, to select the appropriate expert for their situation and challenges.
The experts should enable SMEs to identify their potential and support them in implementing the necessary measures to take advantage of opportunities in the areas of digitalization, green economy and sustainability. In this context, the experts are not directly eligible for funding, but rather the companies that use their services in each case. They can apply for this funding via the Open Call for coaching and mentoring services (CMS). Within this call the awarded SME will receive financial support for a maturity assessment or feasibility service, implemented by one of the experts who express their interest to act as service provider within the RESIST project.
Please read carefully the document Open Call for Expression of Interest_Pool of Experts.
How to express interest
Step 1: Create an account
Please create an account by following the registration steps. https://clustersubmissionplatform.eu/registration/
Step 2: Fill in the online form
Select the RESIST open call for expression of interest for service providers, log in, and fill in the online form with your details. Please note that you cannot save and exit a started form.
In order to apply for this call for expression of interest, you will need to fill in the EXPRESSION OF INTEREST (download the editable file) and upload it in STEP 3. Please sign this document with a validated DIGITAL SIGNATURE or, alternatively, with a written signature with attached ID of signer. Validation from the consortium cannot happen if the document is not submitted.
The submission language is English.
Step 3: Submit your expression of interest
As soon as you have filled in all the fields and uploaded the Expression of interest, please click on "submit". You will receive a confirmation email if your expression of interest was submitted correctly.